Learning Pathways & Digital Badging
In the twenty-first century, learning takes place almost everywhere, at all times, on all kinds of paths and at all kinds of paces.
Alliance for Excellent Education and the Mozilla Foundation
How do we recognize learning anytime, anywhere it happens and connect it to real-world opportunities?
How do we move beyond school transcripts as the only marker of achievement, in order to honor and celebrate the incredible skills and accomplishments of Chicago's learners?
How do we support our educators, both in school and out, with the tools to create and connect learning pathways for young people?
These questions drive CLX to explore, test, and support the use of technology to stitch learning experiences into pathways that open up real-world opportunities for all learners. We are strong believers in digital badging--digital credentials that represent skills, achievements, and knowledge learners acquire in programs and activities both in and outside the classroom. When a learner earns a badge, it should unlock additional learning opportunities or pathways, thereby making the badge immediately relevant.
To support our vision of connected community where all learning counts, CLX has integrated LRNG, a customizable national digital badging and digital learning platform, into our work and we support and advocate for a broad array of other digital learning and badging platforms that exist.

What is LRNG?
LRNG works with cities and organizations to connect learning experiences to educational and career opportunities, ensuring that all learners have inspiration and guidance to prepare them for life and work in the modern economy. It is mobile accessible and offers learners access to local and national learning opportunities. LRNG is open-badge compliant.
Collective Shift, a social enterprise, developed LRNG and in each LRNG city, an "anchor organization" org is responsible for overseeing implementation and partnerships on the platform. In Chicago, CLX serves in this capacity, and we call this initiative LRNG: CHI.

What is On LRNG?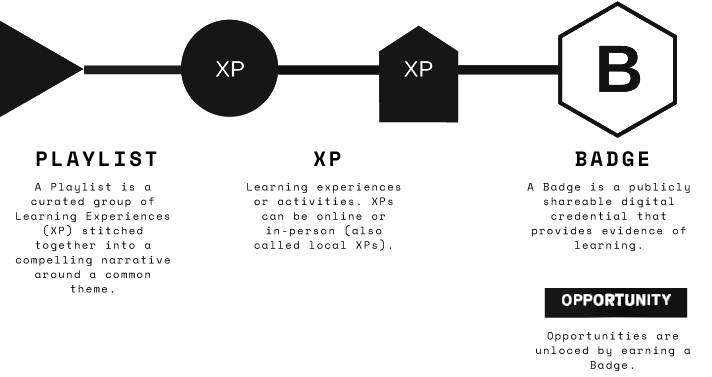 Check out these Playlists from across the country to see how youth are using LRNG:


How does CLX work with LRNG?
Develop local strategy for implementing LRNG; including devising recruitment, communication, and training strategies to develop and foster citywide partnerships among private, public, and nonprofit stakeholders.
Support over a hundred partners on LRNG, including One Summer Chicago, YWCA, Apple, the Career and Technical Education Department at CPS, Microsoft, and many more, to develop learning pathways for Chicago's youth that unlock meaningful opportunities.
Deploy mini grants and deep technical assistance as part of our recruitment and training strategy.
Onboard and support partners on the LRNG Platform and assist them with development of skill-building learning experiences and opportunities through trainings, workshops, and technical assistance. CLX is grateful to partner with Convergence Design Labs at Columbia College Chicago in this work.
Partner with city agencies to incorporate LRNG into a workforce strategy.
User test all local content with youth and program providers.
Want to learn more? Contact Gina Grant, Director of Community, Digital Learning and Pathways at ggrant@chicagolx.org.