Nerdy Media's Journey through CLX's Playlist Design Challenge
The morning of September 1, 2015, the Executive Director and Founder of Nerdy Media, La Toia Brown, emailed a resignation letter and walked away from a salary, benefits, and (gulp)...pension to start a nonprofit.
Nerdy Media endured a two-year journey of setbacks, failures, and self-doubt. After countless grant applications and rejection letters, the Hive Chicago Fund for Connected Learning selected Nerdy Media as a Playlist Design Challenge winner in December 2017.
Awarded a grant of $5,000 and technical assistance to build and launch a Playlist for the LRNG platform, La Toia immediately started designing an ambitious vision. Working throughout the holiday season, she outlined the Podcast Novice and Podcast Nerd playlists guiding learners through every aspect of podcasting. Nerdy Media's project phases included curriculum development, a real-world youth produced podcast, media production, testing, and impact reporting. Each of these phases is detailed below.
I truly appreciate the opportunity to develop this ambitious project and contribute to the LRNG platform. The Playlist Design Challenge became an awesome journey for Nerdy Media, realizing the potential of digital programming, amplifying youth engagement, and furthering my professional growth.
La Toia Brown, Executive Director and Founder


In November, Nerdy Media was excited to become an official partner of the Chicago Learning Exchange. In joining this community, Nerdy Media looks forward to contributing its programming best practices, impact reporting, and participating in actions for innovative connected learning.
More details about each phase of Nerdy Media's Playlist Design Challenge project are outlined below. For more more information on Nerdy Media or to connect with Nerdy Media regarding programming, content marketing, or partnerships, click here.
Nerdy Media's Playlist Design Challenge Project
Curriculum Development

In February 2018, six youth were invited and received stipends to assist with curriculum design.
Over six sessions, the youth provided valuable feedback as they learned about podcasting. La Toia scaffolded connected learning, converging personal interests, meaningful relationships, and real-world opportunity. The sessions began with an essential question, What is a Podcast? and invited Psychologist Laconyer Davis to lead a narrative therapy session and author Jordan Rivers to lead script writing.


Real-World Youth Produced Podcast
Nerdy Media's curriculum design phase empowered youth to produce On Me, a podcast that offers an inside look at Chicago's youth culture - told and produced by those living it. The team of youth media producers also hosted an On the Table to invite preview their episodes.
Available on Apple Podcast, Speaker, and Soundcloud


Media Production
The LRNG Podcast Playlist became an opportunity for peer learning. Nerdy Media's youth shared their skill development, leading the playlist production of the Podcast Novice and Podcast Nerd.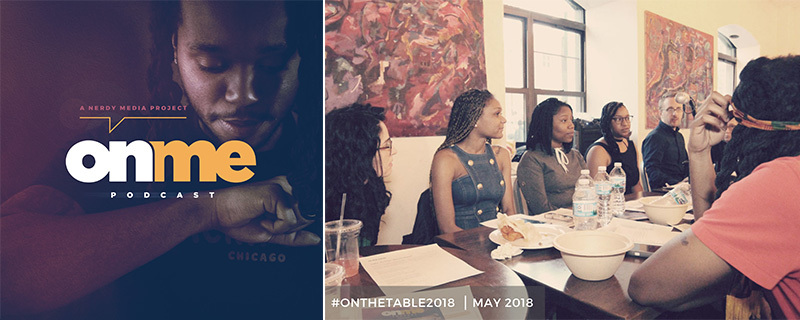 Testing
After the media production, a partnership with Chicago Youth Centers -Elliott Donnelley Youth Center, Bronzeville enabled Nerdy Media to test the LRNG Podcast Playlists.



Impact Reporting
University of Chicago Harris School of Public Policy's Community Action Bureau Board selected Nerdy Media, assigning a team of students to lead an impact evaluation. This valuable opportunity contributed to the development of a brief survey concluding each playlist. Collecting and assessing qualitative and quantitative data provides Nerdy Media with valuable insight into the curriculum design; and in return, accommodate community partner (CYC) with impact reporting.